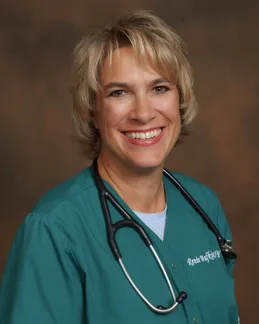 Dr. Renée Bufkin started Vet To Pet in 2006 after working in both emergency care and full service veterinary hospitals. She attended Cornell University for her undergraduate studies and graduated from Colorado State University College of Veterinary Medicine in 2002. She has four children one dog and three cats.
Calls are answered Monday through Friday 9am - 5pm. We are closed (urgent care only subject to availability) on Fridays, all national holidays, Nevada Day and some WCSD school holidays. We don't take calls while in appointments or while driving - so if you get voicemail, you can leave a message and we will get back to you as quickly as possible. You can also text the main number - which is often the fastest way to get in touch with us. Messages are checked and returned as quickly as possible. We do try to check messages after hours and on the weekends, but our availability is limited during that time. If your call is not of an urgent nature you might not get a return call until the next business day - or Monday if you call over the weekend. If you haven't heard back by the next business day, PLEASE call again - tech glitches happen and voicemails do get garbled or lost... We do want to speak with you - so please call/text again if you haven't been contacted within one business day!
The phones are answered by our Veterinary Assistant Michelle Monday through Friday 9am to 5pm. You will hear her voice when you call to schedule an appointment and she will be responding to emails and text messages as well. She also accompanies Dr. Bufkin on certain appointments to help with pet handling and care. She has many years of experience in the veterinary field and we are so happy to have her with us! She can answer most questions and can help with estimates as well.